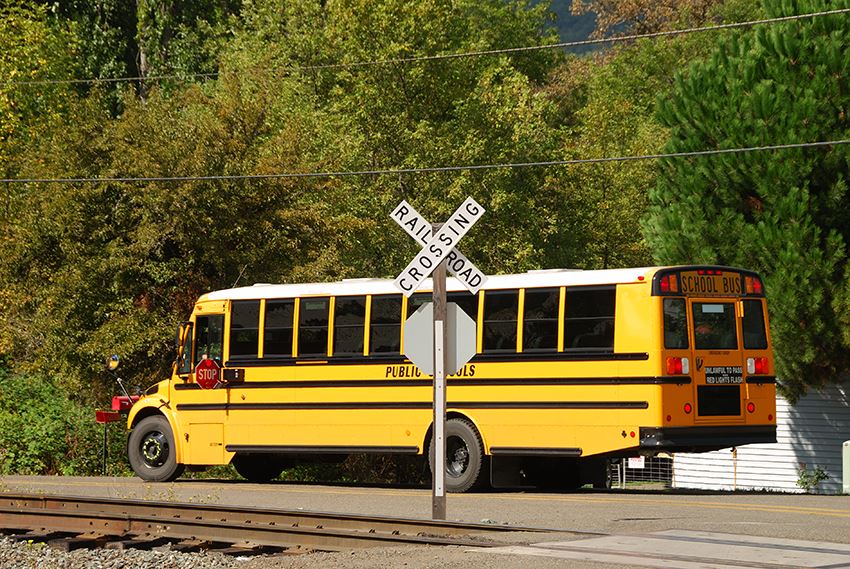 Four students were injured recently when a 2018 Freightliner school bus collided with a train at an unguarded railroad crossing in Lidgerwood, North Dakota.
The collision happened around 3:40 p.m. on Thursday, December 19, in Richland County. Almost twenty K-12 Lidgerwood Public School students were aboard the bus when it attempted to cross two sets of tracks along Fourth Avenue and was struck at a right angle on the rear driver's side axle by a slow-moving Dakota, Missouri Valley and Western Railroad (DMVW) train. The bus was spun counterclockwise and rolled onto its passenger side.
The junction where the incident occurred is traversed daily by two trains, each traveling at a maximum speed of 40 mph. However, the railway and highway signage has been ineffective at warning motorists of the presence of any locomotives in the area. The unguarded railroad crossing is equipped with neither flashing lights nor safety gates. In addition, road conditions on the day of the accident indicated snow-and ice-covered surfaces.
Authorities say four student passengers were injured in the crash.
A 15-year-old girl was airlifted via Life Flight to Sanford Hospital. Three other students – an 8-year-old girl, a 10-year-old boy, and a 14-year-old girl – were transported to medical care centers by ground transport or their parents and treated for injuries. All students are expected to make full recoveries.
Officials released the names of the train operators and bus driver involved in the accident. Neither engineer Michael Mallett nor conductor Terry Roney, both 51, were injured. Likewise, the 69-year-old bus driver, Michael Skroch, was not injured.
The crash remains under investigation.
Headquartered in Bismarck, the DMVW started operations in the fall of 1990, controlling more than 360 miles of former Soo Line Railroad track in North Dakota and Montana. Today the rail line operates over 500 miles of owned and leased track in three states in the upper Midwest.
Bolt Law Firm handles cases involving railroad and train accidents across the country. If you or someone you know has been injured, contact our trusted experts. We are dedicated to our clients and committed to handling each case with care.